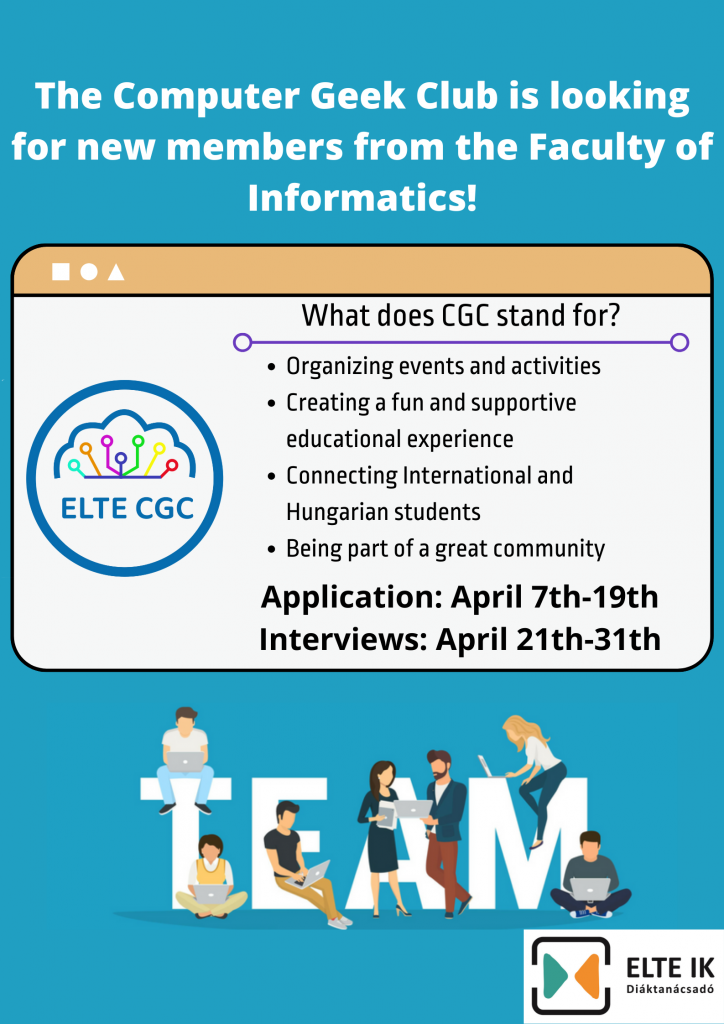 /English/ CGC, Computer Geeks Club is a new club for International and Hungarian students of ELTE Faculty of Informatics. Follow us for more info about our activities and events!
/Hungarian/ CGC, Computer Geeks Club egy új klub nemzetközi egy magyar hallgatóknak az ELTE Informatikai Karon. Kövess minket! Ismerj meg Minket és a programjainkat!
Instagram account: eltecgc
Microsoft Teams: https://teams.microsoft.com/l/team/19%3aa0b169172c284dee904de61d5836c2a8%40thread.tacv2/conversations?groupId=9fb728f5-7069-41fd-ace2-19ea1ee039f3&tenantId=0133bb48-f790-4560-a64d-ac46a472fbbc
BECOME A CGC MEMBER NOW!
***Scroll down for the Hungarian version****

The Computer Geek Club is looking for new members from the Faculty of Informatics! CGC was founded by international computer science students to strengthen the community at the university.
Aims of the club:
The ELTE Computer Geeks Club aims to promote international spirit among the fellow students, both international and Hungarian, build an international community of students at ELTE and to get to know more about the Hungarian culture. Our main focus is the following:
To help the newcomer International students at the Faculty of Informatics in getting their way around ELTE and Budapest
Plan different activities for current students and help promote more fun and supportive educational experience
Promote a more friendly relationship between the International and Hungarian students at the faculty of Informatics of ELTE
You can apply for becoming a member of the club until April 19th on the following link:
https://elteppk.eu.qualtrics.com/jfe/form/SV_6s5PSQ7NdTKMmLc
We'll reach out to you regarding the details of the interviews that are held between April 21th and April 30th. We'll let you all know about the results on May 4th.
Everyone will receive feedback from us. A training session is also part of becoming a CGC member. Information about that is coming soon.
Feel free to write us if you have any questions: studentconsult@inf.elte.hu
Looking forward to working with you!
***Hungarian version***
A Computer Geek Club új tagokat keres az Informatikai Karon! CGC-t nemzetközi programtervező informatikus hallgatók alapították annak érdekében, hogy a közösséget erősítsék az egyetemen.
A klub céljai:
Az ELTE Computer Geek Club célja a nemzetközi életérzés népszerűsítése hallgatók között, mind magyar, mind nemzetközi hallgatók körében. A klub célja a nemzetközi közösség építése az ELTE-n és a magyar kultúra megismerése. Ezekre fókuszálunk:
Új nemzetközi hallgatók segítése az Informatikai Karon, ELTE-n és Budapesten tájékozódásban
Különböző programok szervezése hallgatóknak és szórakoztató, támogató oktatási élmányek népszerűsítése
Közvetlen kapcsolat promótálása nemzetközi és magyar hallgatók között az ELTE Informatikai Karán

Te is lehetsz CGC tag, ha április 18-ig jelentkezel az alábbi linken:
Írunk Neked az interjú részleteiről, amire április 21-30 között kerül sor. Az eredményről május május 4 után értesítünk.
Mindenki kap visszajelzést. Egy tréning részét képezi CGC taggá válásnak. A részletekről az interjúk után értesítünk.
Írj bátran, ha kérdések van: studentconsult@inf.elte.hu
Reméljük hamarosan találkozunk!