///A magyar változatot alul találod///
Are you a Stipendium Hungaricum scholarship student looking to improve your Hungarian language skills? Or just a student who wants to improve their Hungarian skills? Look no further! Join our Hungarian Club at ELTE Lágymányosi campus.
Each week, our club meets on Wednesdays at 17.00 in Room 2.711 C. Together with fellow university students, you'll practice speaking, listening, and reading in Hungarian, with the guidance of a native Hungarian tutor and one of our senior students.
Our club offers a supportive and welcoming environment, where you can meet other students and improve your language abilities. Whether you're a beginner or a more advanced learner, we encourage you to come along and participate in our group discussions, language games, and activities.
So, if you're looking to practice and improve your Hungarian language skills, join us at ELTE Lágymányosi campus on Wednesdays at 17.00 in Room 2.711 C. We look forward to meeting you!
Knowing Hungarian language is not a prerequisite to join 🙂
Looking forward having you there!
Senior Students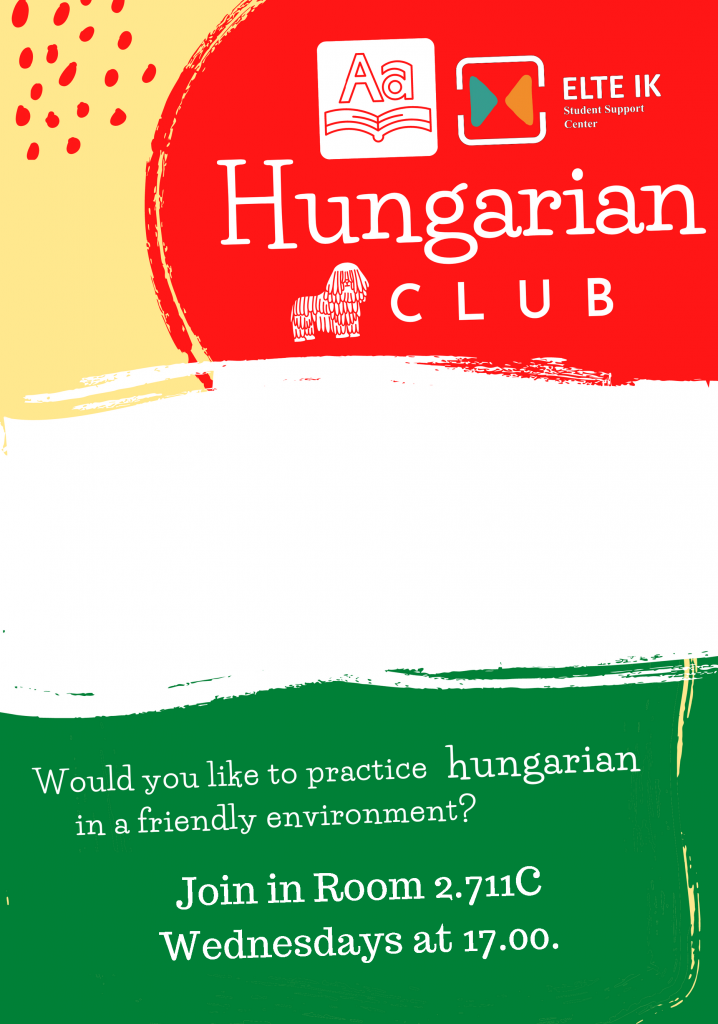 ///Magyar változat///
Szeretettel meghívunk az Magyar Klubba (Hungarian Club) , amiket IK-s Senior Hallgatók vezetnek. A Magyar Klub nyitott minden Hallgató számára az Informatikai Karon, aki szeretne olyan más országokból érkező hallgatókkal magyarul beszélgetni, megismerkedni, akik szeretnék gyakorolni a magyar nyelvet, s megismerkedni magyar hallgatókkal. A Klub célja tehát egy olyan felület biztosítása, ahol az Informatikai Karon tanuló nagyszámú külföldi hallgatóság és a magyar hallgatók találkozni tudnak egymással, földrészeken átívelő ismeretségeket tudnak kötni.
Csatlakozz bátran a Magyar Klubhoz szerda esténként 17:00-18:00 között a 2.711C szobában.
Az esemény ingyenes és az szemeszterben bármikor csatlakozhatsz.

Találkozunk a Klubban!
Senior Hallgatók