Are you interested in open source software? Would you like to meet like-minded people and motivate each other into contributing to your favorite projects? Or do you want to explore the endless list of open source software and learn more about its philosophy and mission?
If so, then we are pleased to introduce our 'Open Source Software Club' here in ELTE.
You are more than welcome to join us. We would be happy to have you as a member of our community.
We aim to form a friendly and supportive community where we motivate each other to learn and contribute to projects of choice.
First session: 10th of November, Friday, 18.00, room 0.827
Feel free to join the event on Fridays between 18.00-19.00 at room 0.827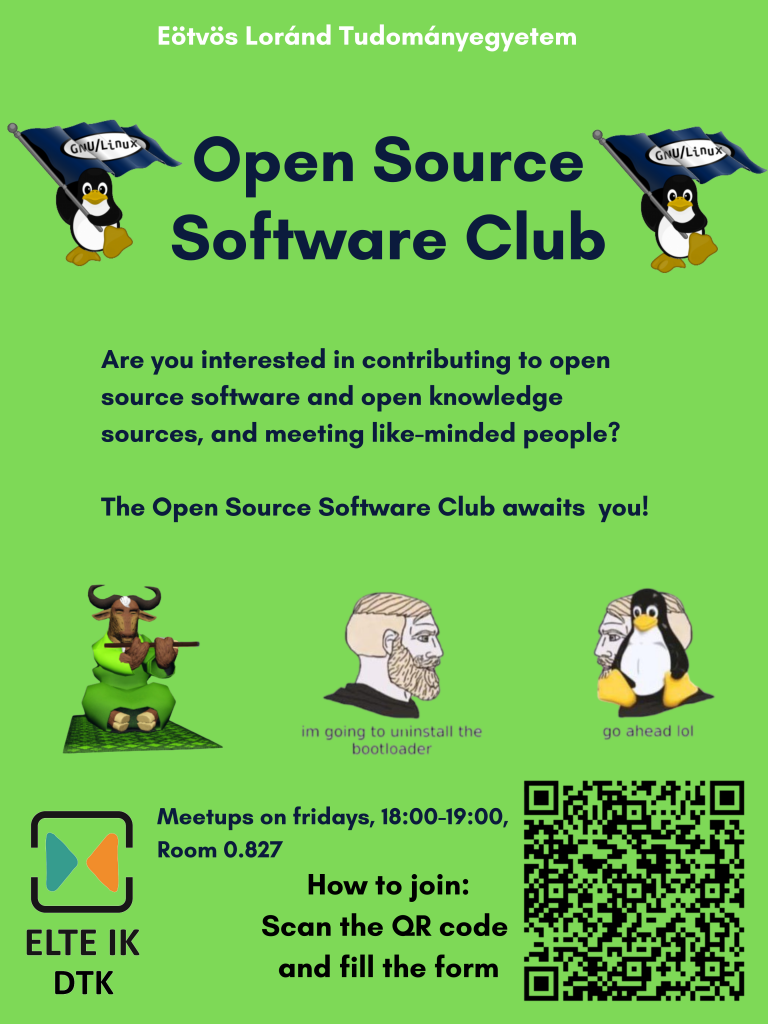 Please note, that location may change depending on number of applicants. If you applied and the location changes, the organizers will notify you on Teams and in e-mail.
The event is free of charge and you can join at any point during the semester.
Looking forward having you there!
Kindly fill up the form beforehand if you're willing to attend the meeting and be a member, this is for verification purposes. Also, if you have any requests, please don't hesitate to mention them in the "additional comments" section, or even write down your ideas and share them with us on the day of the meeting.
Be part of an amazing team and enroll today!
Apply here:

Kind regards,
Besi Ahmetaj, Edis Hasaj & Student counsellors
Icons provided by icons8.com