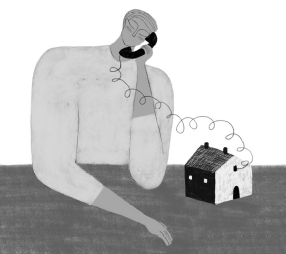 Leaving home
If this is your first time away from home you may feel homesick, missing friends, family and the familiar comfort of home. Research suggests that around 60% of new university students become homesick in the first few weeks. This feeling usually fades as you get used to a new environment and start to make new friends.
Why do we get homesick?
From the moment we are born we start the process of making links with others, things and places. Our first bonds are usually with our parents. Moving away from home can leave us with a sense of loss and we may grieve in this period. This feeling is normal and will resolve by time.
It is important be aware: it is OK to feel homesick. Accepting how you feel helps. We all experience many changes during life. Coming to university is a significant change. It is ok to take time to adjust. Don't be too hard on yourself and remember other students may feel the same way as you are.
You may feel
You may feel tearful or sad, your mood could be low for a short time. This could affect your concentration and your self belief. These feelings will pass as you start to make friends and get used to living in a new place.
You are more likely to feel homesick if:
You have recently experienced a loss
A family member back home is unwell
You have a diagnosis of anxiety or depression
You are a long way from home or are restricted financially from visiting home
You are an international student
You come from a different culture or climate
You are part of a close family
There are family problems
What help?
These feelings are normal and you will feel better by time – be aware of this information
Have familiar things from home in your room
Stay in touch with family and friends
Invite friends to visit
Make sure you get enough sleep
Join a society
Eat healthily
Exercise: take up a sport or join a gym
Sign up as a volunteer
Develop a regular routine
The ELTE CGC – Computer Geeks Club is the perfect place to meet other students and get involved in a wide range of exciting, fun activities. They are a group of students who volunteer to help fellow students.
Sometimes the negative feelings about being away from home can persist. If you are worried you are not settling in after a few weeks you can have a visit at the Student Support Centre. Details on how you can get in touch with the Student Support Centre you can see down below.
Do you feel you need support?
The counselling service is available
ELTE Lágymányosi campus, building D; 1117 Budapest, Pázmány Péter sétány 1/C South building; room 0.727, room 0.203 and room 00.721
Five steps to staying mentally healthy
Connect with others. Make new friends, talk to others on your course. These encounters can enrich your life
Be active. Run, walk or dance. Play a game. Find a physical activity that suits you
Be curious. Take notice of your surroundings, the changing seasons. Savour the moment. Be aware of the world around you.
Challenge yourself. Learn a new skill, rediscover an old interest. Learning new things can increase your confidence
Give. Do something positive for a friend or a stranger. Smile. The rewards of looking outside yourself can improve your well-being.