Are you interested what kind of research takes place at the Faculty of Informatics?
You'd like to discover your options or even join a project? Are you looking for an internship position?
Would you like to improve your skills?

Then join our Project Forum starting at 9:30 o'clock on 12th November 2021 online via Big Blue Button!
Link to join: https://nc.elte.hu/apps/bbb/b/DYpe2mTG2DGo9Sgr
Program:
9:30-11:00 Welcome and project videos
11:00-12:00 Q&A, interactive forum
If you have a technical problem with the Forum, please write us to dtk@dtk.elte.hu.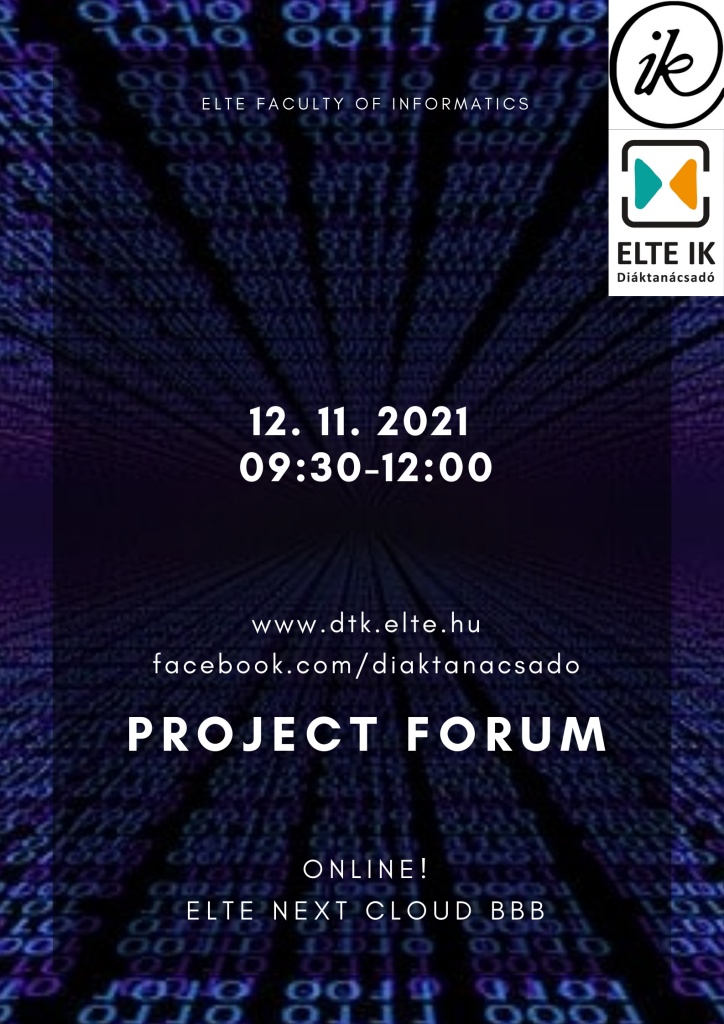 The forum will be held in English and following projects will be presented, among other things:
– Machine Learning for Software Engineering
– Finding Security Vulnerabilities in Java Code by using Static Analysis
– Finding Security Vulnerabilities in C / C++ Code
– RUMBA – Research for Understanding Music, Beat and Acoustics
– PipeRT – Realtime Scheduling Framework for Digital Signal Processing
– Machine Learning for Signal Processing
– Human-machine, human-robot interaction and related applications
– Conductor vibration in transmission lines
– Quantum computing: algorithms benefiting from quantum computers
– CodeCompass
– Static/dynamic source code analysis and transformations for Erlang — RefactorErl
– Feedback self-organisation
– Robot Soccer
– Artificial open-ended evolution
– AI for Inertial sensor production
– Analysis of P4 programs