We are inviting you to a 2.5-hour online Stress management training!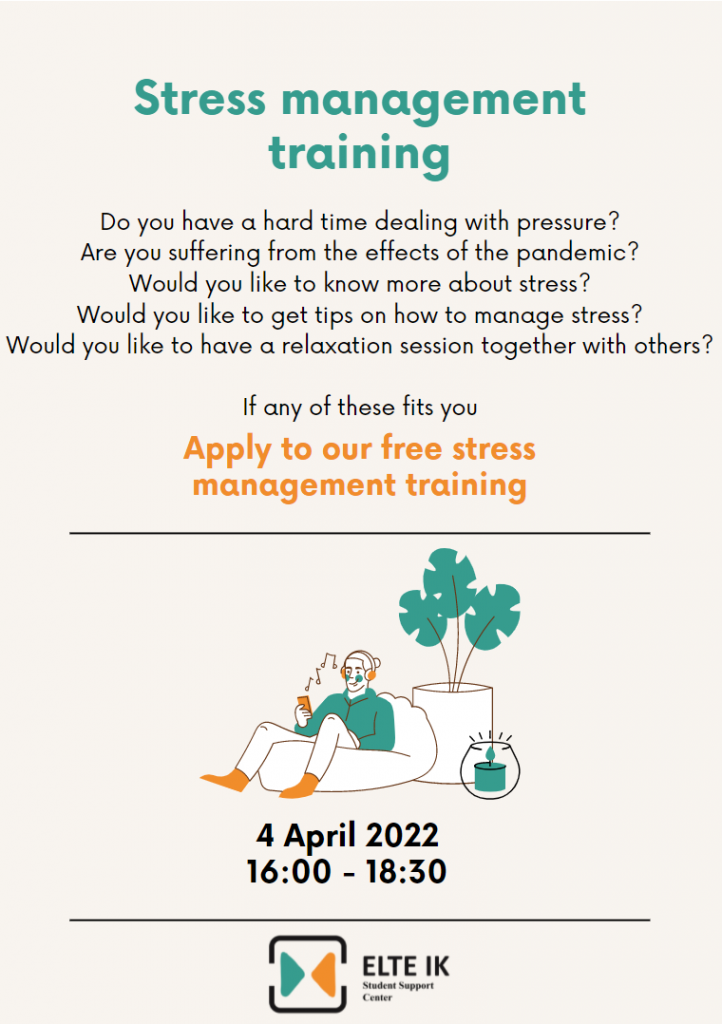 We are all facing various stress-filled situations in our day-to-day lives, such as preparing for a midterm exam, encountering difficulties or getting into conflicts. It is important to have a set of tools and skills that one can mobilize when dealing with situations like this. We'd like to help you with this during the training.
Other then having a safe space to share your experiences and discuss the topic of stress together, our goal is to provide a variety of tools and instruments that can help you, our participants in coping with high tension situations and the negative effects of stress.
Date and time: 2022, 4th of April (Monday), 16:00 – 18:30
Location: Microsoft Teams, link will be provided after the registration
The training is an interactive program, the exercises are designed to build on the past experiences and personal views and feelings of participants. This can be best reached with direct communication and for this reason we ask you to join with cameras and microphones if possible.
Participation is free, but requires registration at the link below: —
Please inform us if you are at the campus at the time of the training, and can't get home in time! In this case we can provide a room for joining online.
We hope to see you soon,
Student counsellors
Icons provided by icons8.com
Stress management training