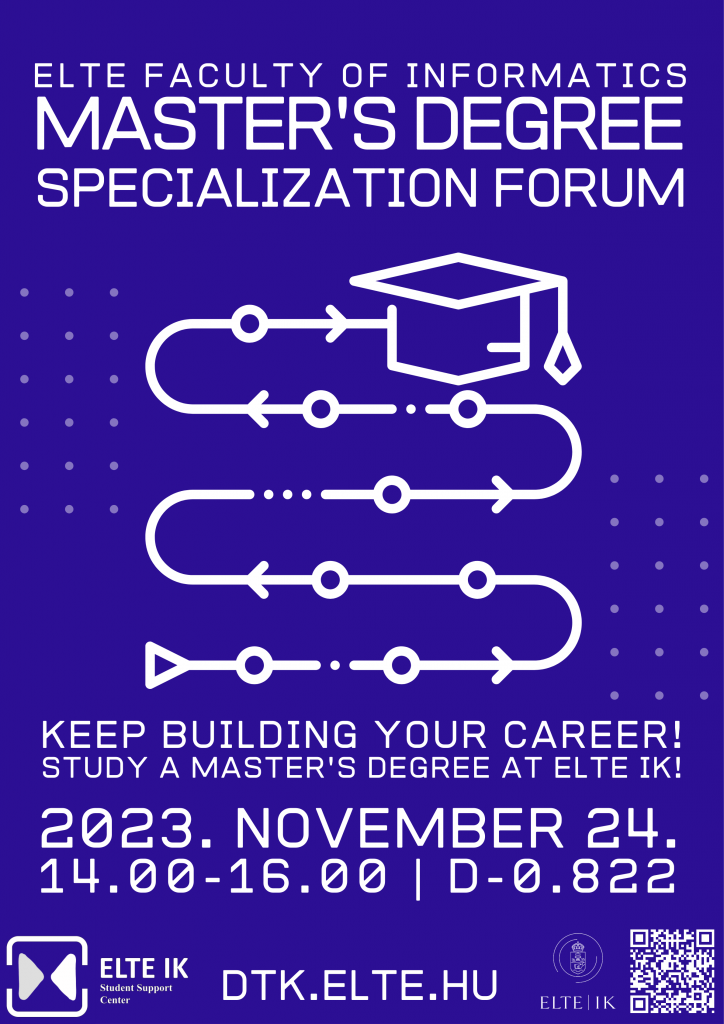 Are you studying for a Bsc in Computer Science and want to deepen your knowledge in more specialised areas of computer science?
Would you like to expand your opportunities within the IT career in the future?
Are you preparing for an academic career or interested in research and development?
Would you like to apply for a Master's degree but are still unsure which specialisation to choose?
If you have answered yes to any of these questions, you can watch our Master's degree information videos to find out more about the Master's programmes offered by ELTE IK and the potential they provide!
You are also welcome to join us at the Master's Degree Specialization Forum, which will take place in person on 24 November 2023, from 14:00. The event will feature a roundtable discussion with the Faculty's ledership, Msc programme directors and Master's students, as well as an industry partner, and will also provide answers on how a Master's degree offers more than a bachelor's degree and how a Master's degree can pay off in terms of labour market considerations.
LOCATION: 1117 Budapest, Pázmány Péter stny. 1/c, South Building, Mogyoródi József Hall (0-822)
The processing of data provided during registration is based on voluntary consent. A name and email address will be added for contact purposes and the training level will be used to assess interest in the event.
Please be informed that the data provided during registration will be deleted no later than 1 week after the closing of the event, will not be used for any other purpose, and will not be passed on to third parties.
You can participate in the event without filling in the registration form, so filling it out is not obligatory!
Master's Degree Specialization Forum 2023